Description Of Franklin Street School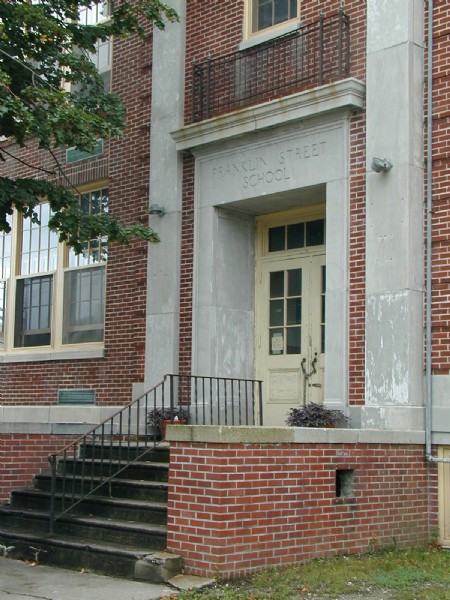 The Franklin Street School, built in 1928, consists of two building areas joined by a common wall. The front portion, the original elementary school, has a basement, first floor and second floor measuring approximately 2,700 square feet each. The back portion of the building, originally a gymnasium for the city's high school, has an area of approximately 4,000 square feet. Proposed restoration of the building will emphasize the multi-use of spaces, the creation of a clean and safe environment and access for the handicapped.
Given the community arts and education activities proposed for the building, the Founders of the Center for Community Arts, envision the development and restoration of the building spaces along the following lines:
I. MAIN BUILDING/BASEMENT LEVEL:-
Including utility rooms and bathroom facilities, the basement level would house a Computer Access and Training Room which would include spaces for administration, information referral, a computer link to the school system and computer stations for training and rental use. Additionally, a second room in the basement would be devoted as a media center with a Photography Darkroom, Video Equipment Storage and Photocopy Machines.
II. MAIN BUILDING/FIRST FLOOR:-
The two large classroom spaces on the first floor would be dedicated as follows--one room a Study Skills Center and the other an Exhibition Space. The Study Skills Center would be a community meeting and learning space with a permanent exhibit of the African American History of The Franklin Street School. It is proposed that during the school year, afternoon and evening study sessions will be held so that any student in the community who needs a quiet place to study sessions will be held so that any student in the community who needs a quiet place to study or assistance with homework would have those requirements for academic success addressed. The other classroom on the first floor would be dedicated as an Exhibition Space.
This space would be used for both art and community history exhibitions, performing artists presentations such as musical recitals and poetry readings and community outreach meetings and/or lectures.
III. MAIN BUILDING/SECOND FLOOR:-
The second floor, with approximately 2,000 square feet of space which can be divided into two 1,000 square foot spaces, would be designated for visual arts workshop space and studio areas for artists in various disciplines serving in residence on a rotating term basis.
IV. GYMNASIUM:-
The approximately 4,000 square foot gymnasium would be developed as a multi-use auditorium with no permanent seating but with a movable theatrical lighting system to cover 1,200 square feet. This and improvements in the acoustical area would accommodate theatrical and musical performances. This space would continue to be used for some programs of the City of Cape May Recreation Program, as well as community dances for all age groups and forums on topics important to community life and other community events.