Historic Cemeteries
The Stanton Family Cemetery – Virginia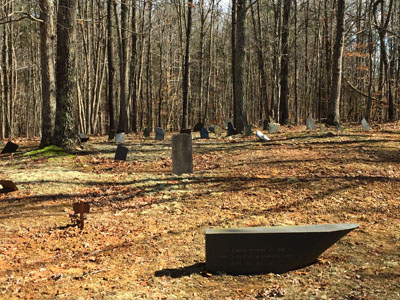 The Stanton Family Cemetery, located in Buckingham County, Virginia about seven miles south of the James River, is an exceptionally well-preserved African American rural cemetery. This family cemetery is notable for it's approximately thirty-six graves, most marked with slate headstones and foot-stones. These irregularly shaped slabs of local Buckingham slate mark the graves of at least four generations of the Stanton Family. It retains a high degree of integrity and exemplifies the types of family cemeteries that predated the establishment of church-associated and public burial grounds in many rural Virginia communities.
Stanton Family Cemetery Nomination
Nancy Stanton's Certification of Death
Stanton Family Cemetery Dedication Ceremony Program
Stanton Family Cemetery Marker Text
Stanton Family Cemetery Appendix
Stanton Family Cemetery Award from Preservation Alliance of Virginia
Selected Readings:
Ingram, E. Renée and White, Sr., Charles W., Buckingham County. (Black America Series) © 2005 Arcadia Publishing, Charleston, SC.
Jackson, Luther Porter, Free Negro Labor and Property Holding in Virginia, 1830-1860. © 1942 New York, NY.
The National Register of Historic Places: African American Historic Places. Edited by Beth L. Savage. © 1994 National Park Service, Washington, DC.
Virginia Landmarks of Black History. Edited by Calder Loth. © 1995 University of Virginia Press, Charlottesville, VA.
Virginia Landmarks Register. Edited by Calder Loth. © 1999 University of Virginia Press, Charlottesville, VA.
White, Sr., Charles W., The Hidden and the Forgotten: Blacks Contributions to Buckingham County. © 1985 Walsworth Press, Marceline, MO.