Old Anacostia Historic District - Washington, DC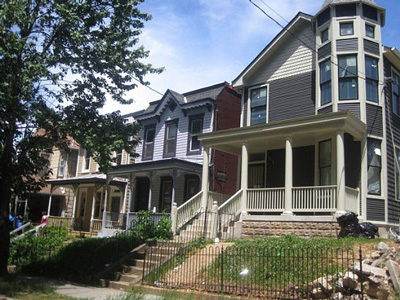 The Anacostia Historic District is an area of approximately 20 squares in southeast Washington. Uniontown, the core of the historic district was incorporated in 1854 and was one of the first suburbs in the District of Columbia. It was designed to be financially available to Washington's working class, most of who were employed across the river at the Navy Yard.
The initial subdivision of 1854 carried restrictive covenants prohibiting the sale, rental or lease of property to any Negro, Mulatto, or anyone of African or Irish descent. However, by 1880 approximately 15 percent of the residents were African American and today probably 99 percent. The historic district retains much of its mid-to-late 19th-century low scale, working class character as is shown in its architecture.
While the neighborhood is fairly homogenous and a strong sense of order prevails, a great deal of variety and visual richness exists. Projecting porches and varied rooflines create a strong sense of rhythm up and down the streets. Relatively simple, standard house forms feature some of the most varied and original detailing. Individuals chose their own porch trim, iron fences, window and gable treatments and other decorative details.
The frame houses are mostly Italianate and Cottage style with some scattered examples of Queen Anne. Interspersed are brick rowhouses, churches and two commercial streets Good Hope Road, and Martin Luther King, Jr., Avenue, but with few exceptions, the commercial buildings mirror the low-scale residential character of the neighborhood.
It also contains within its boundaries, the Frederick Douglass National Historic Site, (14th and W Streets, SE) home of the developer of Uniontown, which was later bought by Frederick Douglass, who was often referred to as the "Sage of Anacostia." After decades of neglect, Anacostia's citizens are working to revitalize the neighborhood.
The Anacostia Historic District is roughly bounded by Martin Luther King Ave. on the west, Good Hope Rd. on the north, Fendall St. and the rear of the Frederick Douglass home on the east, and Bangor St. and Morris Rd. on the south. Most of the buildings are private residences and not open to the public.
Excerpts from the National Park Service's National Register of Historic Places.
Nomination for the National Trust for Historic Preservation - 11 Most Endangered Historic Places - Anacostia
In January 1999, the African American Heritage Preservation Foundation, Inc. nominated Washington, DC's Anacostia Historic District and its surrounding community as one of the eleven most endangered historic places in the United States.
DC Preservation League Reporter ~ Spring 1999 issue