The Honorable Blanche Kelso Bruce - Virginia
Blanche Kelso Bruce - Virginia
U.S. Senator of Mississippi (1875-1881)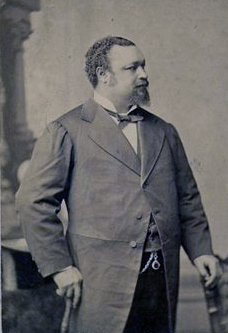 Blanche Kelso Bruce was born into slavery two miles south of Green Bay, Prince Edward County, on 1 March 1841, son of Polly Bruce, a slave and a Virginia planter. Bruce spent his childhood years in Virginia on the plantation of Pettus Perkinson where he received his earliest education. He worked as a field hand and printer's apprentice as his master moved him from Virginia to Mississippi and Missouri.
At the beginning of the Civil War, Bruce escaped slavery and eventually settled in Lawrence, Kansas where he organized the state's first school for African Americans. At the end of the Civil War, Bruce moved to Hannibal, Missouri where he established and taught in the first school for African Americans in the state. In 1866, Bruce entered Oberlin College in Ohio where he remained for one year as a result of financial difficulties and was forced to leave. The following year, he was employed as a porter on the steamer Columbia, which traveled between St. Louis, Missouri and Council Bluffs, Iowa.
In 1869, Bruce moved to Mississippi and established himself as a prosperous landowner. In subsequent years, during Reconstruction, he was appointed registrar of voters in Tallahatchie County and was elected Sergeant-At-Arms of the new State Senate. In 1871, Bruce assumed several political positions. He was appointed tax assessor and superintendent of education in Bolivar County and elected sheriff and tax collector of Bolivar County. Bruce gained the attention of powerful white Republicans who dominated Mississippi's Reconstruction government. These Republicans secured more appointments for Bruce and made him the most recognized African American political leader in the state.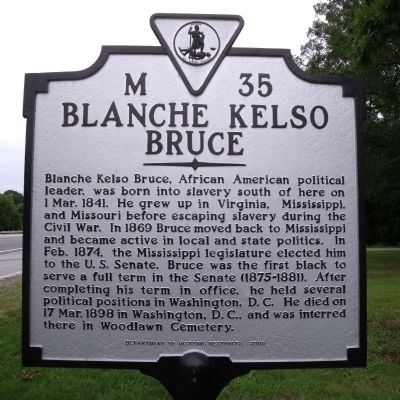 In February 1874, the Mississippi legislature elected Bruce to the United State Senate. Bruce formally entered the Senate on 5 March 1875, and was elected to three committees: Pensions; Manufactures; and Education and Labor. On 14 February 1879, during the debate on Chinese exclusion bill that he opposed, Bruce became the first African American senator to preside over a Senate session. On 7 April 1879, he was appointed Chairman of the Select Committee to Investigate the Freedman's Savings and Trust Company.
Following the close of his Senate service on 3 March 1881, Bruce rejected an offer of the ministry to Brazil because slavery was still practiced there. In May 1881, Bruce was appointed as Registrar of the Treasury and served until 1885. Bruce served as Recorder of Deeds for the District of Columbia from 1891-1893 and again as Register of the Treasury from 1897 until his death. Bruce served as a trustee of Howard University, which conferred on him the degree of LL.D. in 1890. He also served as a trustee of the District of Columbia public schools. Senator Bruce died on 17 March 1898 in Washington, DC and was interred in Woodlawn Cemetery in Washington, DC.
Blanche Kelso Bruce became the first African American U.S. Senator to serve a full six-year term.
Selected Readings:
Bruce, Henry Clay The New Man: Twenty-nine Years a Slave, Twenty-nine Years a Free Man – Recollections of H.C. Bruce © 1895 P. Anstadt & Sons, York, PA.
Gatewood, Willard B. Aristocrats of Color: the Black Elite, 1880-1920 © 1990 Indiana University Press, Bloomington & Indianapolis, IN.
Mann, Kenneth Eugene Blanche Kelso Bruce: United States Senator Without A Constituency The Journal of Mississippi History Volume XXXVIII May 1976 Number 2
Middleton, Ph.D., Stephen Black Congressmen During Reconstruction: A Documentary Sourcebook © 2002 Greenwood Press, Westport, CT.
Ragsdale, Bruce A. and Treese, Joel D., Black Americans in Congress, 1870-1989 Office of the Historian, U.S. House of Representatives Raymond W. Smock, Historian and Director © 1990 U.S. Government Printing Office, Washington, DC.
Sterling, Philip and Logan, Ph.D., Rayford, Four Took Freedom: The Lives of Harriet Tubman, Frederick Douglass, Robert Smalls, and Blanche K. Bruce © 1967 Zenith Books, Doubleday & Company, Inc., Garden City, New York.
Urofsky, Melvin L. Blanche K. Bruce: United States Senator, 1875-1881 The Journal of Mississippi History Volume XXIX May 1967 Number 2
A Guidebook to Virginia's African American Historical Markers Compiled by Loux, Jennifer R., Published by Virginia Department of Historic Resources © 2019